All prices correct as per November 2004.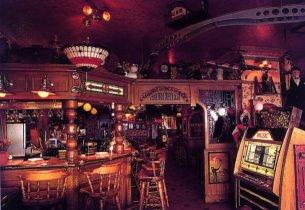 Churchill's, undoubtedly the finest 'English style' pub in Oslo, and the meeting place for many ex-pats. The cluttered decor reminds one of a typical English country pub and is highly recommended. The best Beer is Frydenlund . One half litre £4.80. Newcastle brown on draught is a little more expensive, (I dare not ask!). Simple pub food is available in the daytime. Opening hours- midday till 2 am. Location- Rådhusgate. Central--close to Oslo town hall. (The big building that looks like a factory------but!------ take a look inside!)
---

The Scotsman is situated on Karl Johans gate and is a very popular meeting place for Norwegians. Good food (so I hear ), and good beer at typical city centre prices (£4.50+).
---

Closeby and on the same street as the Scotsman. A little quieter than the latter and nice to sit outside in summer.
---

On the east side of town though still quite central. About 3 minutes walk from central station. One of the oldest buildings in the area . Live music (piano bar style) at weekends. Still a great pub and with a quiet pool room and good darts.
---

Again, on the east side, (Brugata), and, with 'Churchill's', this is the pub I use most. The pub, originally called 'Bulldog', was converted to typical English style by a good friend of mine who hails from Ipswich. Newcastle brown - 56 kroner (£4.50) ordinary pilsner-'Ringnes', £4.00. ('Big screen' TV for football, sports club and 5 dart boards).
No food here but the best pizza restaurant in Oslo only 50 yards away (Red mill), or Røde Mølle.
---

Very small bar but boasts the oldest still in use juke box in Oslo. Some golden oldies from the fifties here! This bar is in the same street as Two Dogs, and, I hear, excellent food.
---